There are a lot of "rules" around fashion. Some have existed since the dawn on time – or so it would seem and others seem to change all the time. Can I let you in on a little secret? These "rules" don't really apply anymore. They're more like guidelines now. Do certain pieces look better on certain body shapes than others? Yes sure – that will never change. Does that mean you can't break the rules from time to time? Of course not! Let's find the truth behind these myths, shall we?
Myth: Horizontal stripes make you look wider or fatter.
Not true… ok sometimes true. It's the nature of the stripes that matters. What does that mean, you ask? Horizontal stripes will make you look wider when the stripe pattern is consistent all the way through – like each stripe is 1" wide. If, however, the stripes get thinner/wider, further apart or closer together throughout the garment – and in the right places – then the widening effect is minimized. Look for horizontal stripes that are small and close together in the mid-section, and wider around the hips & thighs, creating an hourglass effect. The widening effect also depends on the pattern/colours of the stripes and one's body type.
Left image: this stripe pattern can add girth. Right image: better in terms of patter, spacing and colour combination. 
Left image: symmetrical size & spacing but colour combination works. Centre image: best stripe pattern of these images – varying stripe size with a complimentary colour palette. Right image: evenness of stripes and repeating colours can make the wearer look wider.
Myth: All white makes you look fatter.
Head to toe white – like black, or any monochromatic look, frankly – does not necessarily make you look any bigger. Selecting options that are most flattering to your body type is the key. Refer to separate post "Body Type & Sizing" here.
Myth: No white after Labour Day
Ok this one is kind of true. For me, white is strictly for summer – June through September. Your clothes shouldn't blend in with the snow LOL Winter white, which is more of a cream colour, can be worn year-round, in the appropriate fabrics, of course. Side bar, pantyhose should be worn during winter under skirts and dresses – always!! The dry, pasty, goose-bumpy leg look is just not cute.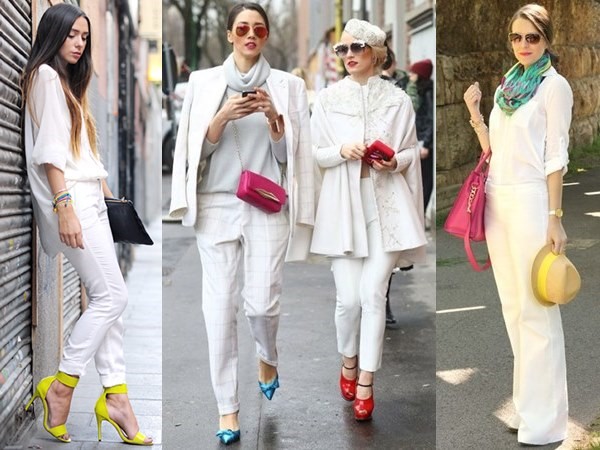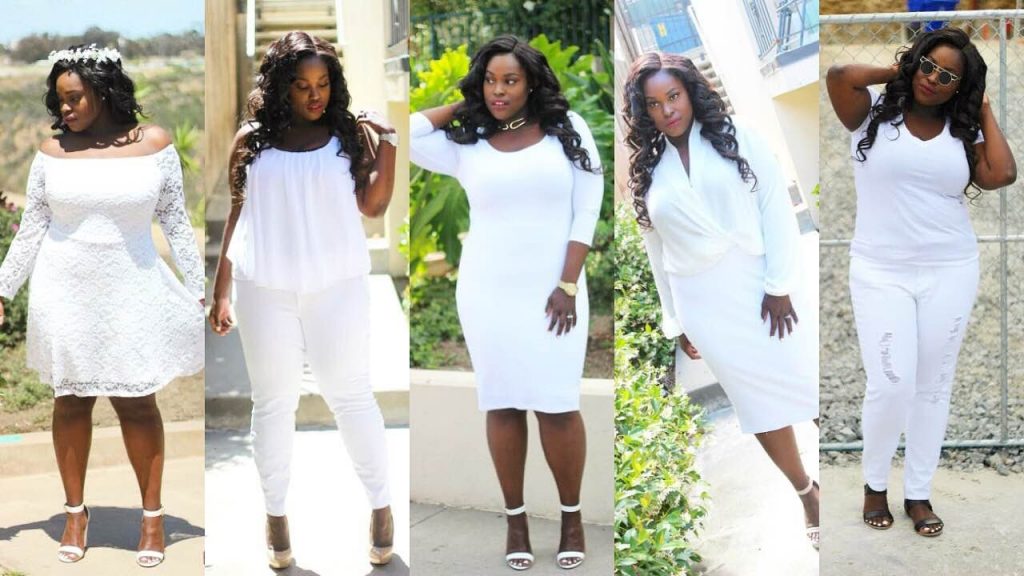 Myth: Mixing patterns is a no-no
Totally a myth! You can absolutely mix patterns, but there is a wrong way and a right way. You don't want to give people a headache just by looking at you, right? Funny story: someone I used to know wore a "green" mixed pattern outfit on a regular basis in the office. Not only did the colours not coordinate with each other, but the patterns weren't complementary either. Yikes – talk about a headache!
A few of my classy tips if you're a little hesitant (as I have been):
Stick to a similar colour block. Select patterns that all have either the same colours or complementary colours to each other.
Select pieces that have smaller or subtler patterns with neutral bases – black, white, beige, etc. For example, one of my outfits mixes black pants that have a gold chain pattern with a white top that has a gold floral pattern. Gold is the common colour with neutral bases.
Select patterns that are not too bold individually, at least to start off. Tone on tone patterns are a great way to dip your toe into the pattern mixing pool. It's a bit more subtle but still makes a statement.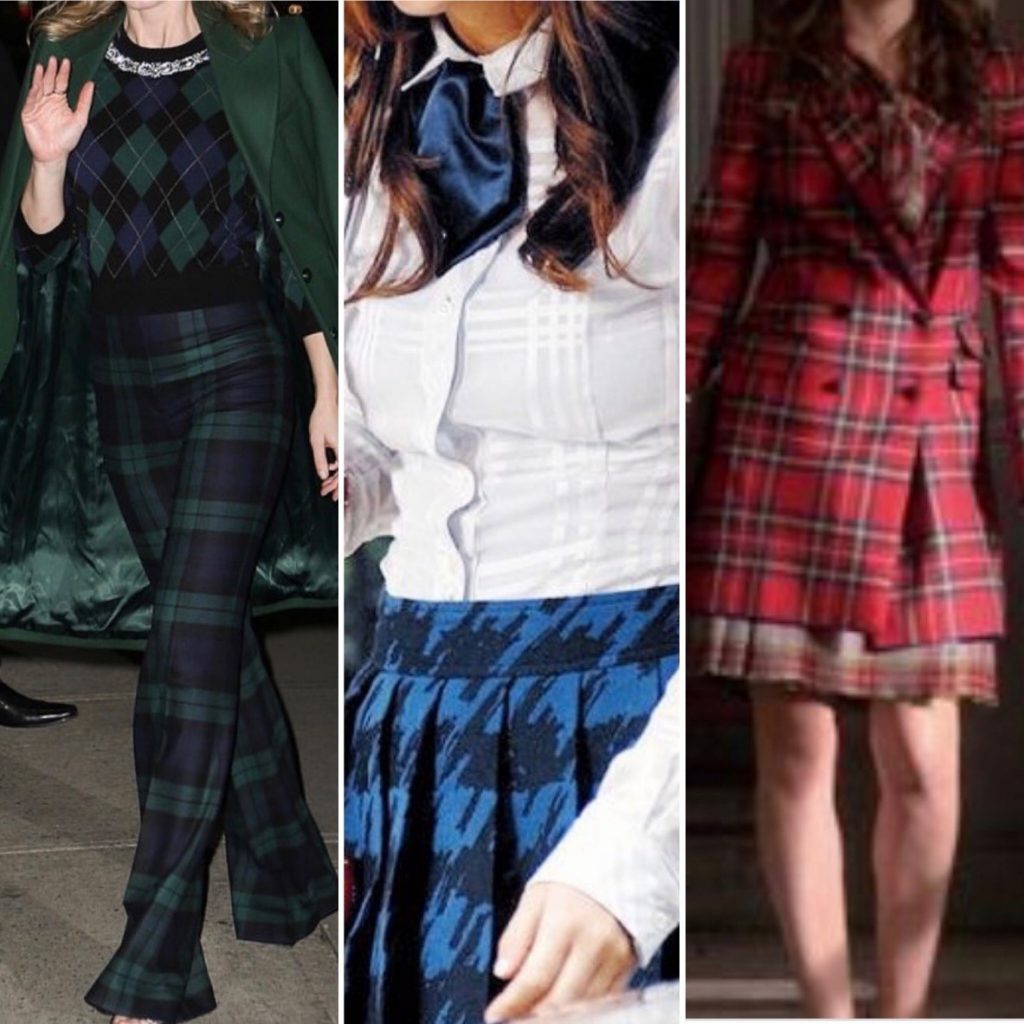 An alternative to patterns: texture. Texture can add visual interest to an outfit, especially if the outfit is in a neutral colour scheme like black, grey, or navy. For example, a wool or tweed skirt with a leather top.
Another option for adding interest: colour! Select one item with pattern, and pull solid colours from the pattern for the top and shoes.
Myth: Don't mix styles
Also a myth. By this, I mean mixing athleisure wear with dressier items, or mixing boho with preppy. It has become commonplace to mix styles in one look compared to even 10 years ago.
Myth: Big prints or patterns can make you look larger
It depends… If you're taller or larger, then bigger patterns probably work better. But very large patterns on a slender petite person could appear overwhelming. The opposite is also true: very tiny prints or patterns in a very large size could be unflattering. Is that a hard and fast rule? No, of course not… almost nothing in fashion is anymore. It's about proportions.
Myth: Don't wear black with navy
I'm not going to lie… I used to be a believer in this "rule". I used to say that black and blue makes you look like a giant bruise LOL But no more! I a few outfits that are black & blue together, and even a set of cropped wide leg pants that are black/charcoal and dark blue in a plaid pattern!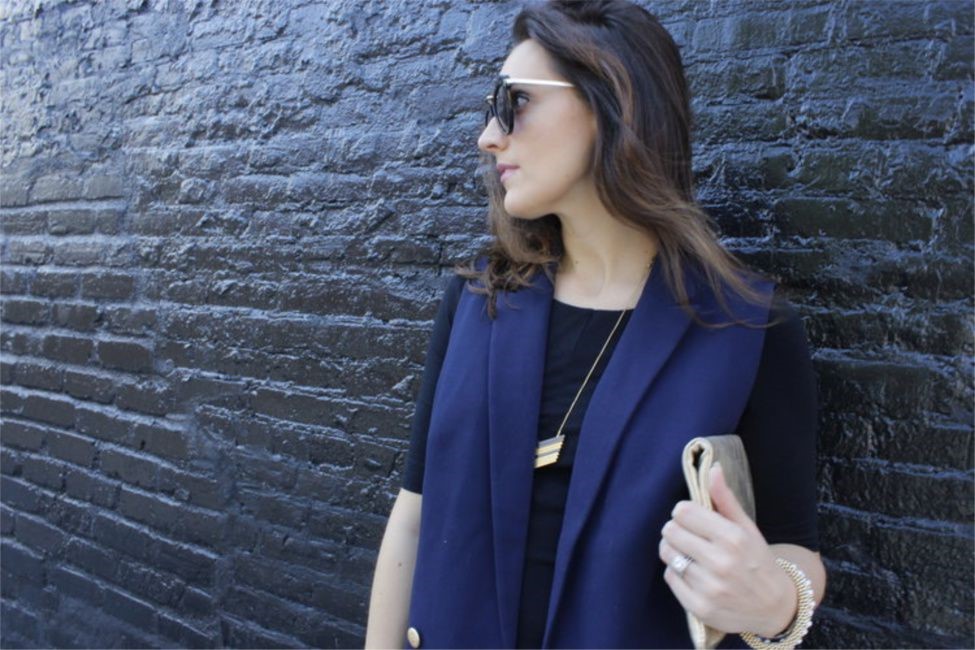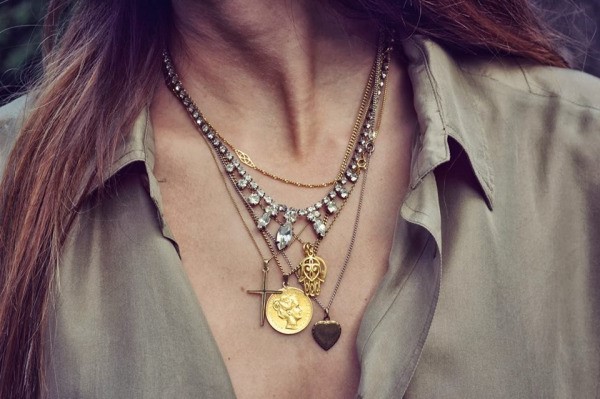 Myth: Never mix jewelry metals
Total myth! That rule has been long dead. I mix metals regularly and even have a number of jewelry items with mixed metals on one piece!
Myth: Match your shoes to your purse (or belt)
I think for the gentlemen, matching shoes to belt is a stricter rule. What does that mean? Brown shoes with a black belt – no. Blue shoes with a tan belt – yes 😊
For the ladies, this rule is more lax. Shoes and purse do not have to be the same colour… but they should coordinate with each other and with your outfit (of course). When in doubt, wearing either the bag or the shoe in a nude colour is always a reliable fallback.
Myth: Don't wear socks with sandals
Not a myth. 100% true. LOL Ok ok maybe this one is just not for me. I know this has been a trend lately with the ankle hose and open toes… 2 comments: (1) it's a trend so it will pass and (2) this one seems to appeal to a specific style. But please, for the love of god, no socks with Birks, Adidas slides, etc.!