I'm born and raised in Toronto, Canada, but I don't like the cold. Never have! No matter how much time passes, you never get used to it. So summer is my favourite season for weather. But autumn is my favourite season for fashion! Why? There is SO much you can do with fall fashion! It's the season for boots and booties, suede and leather, scarves, layering, and rich colours…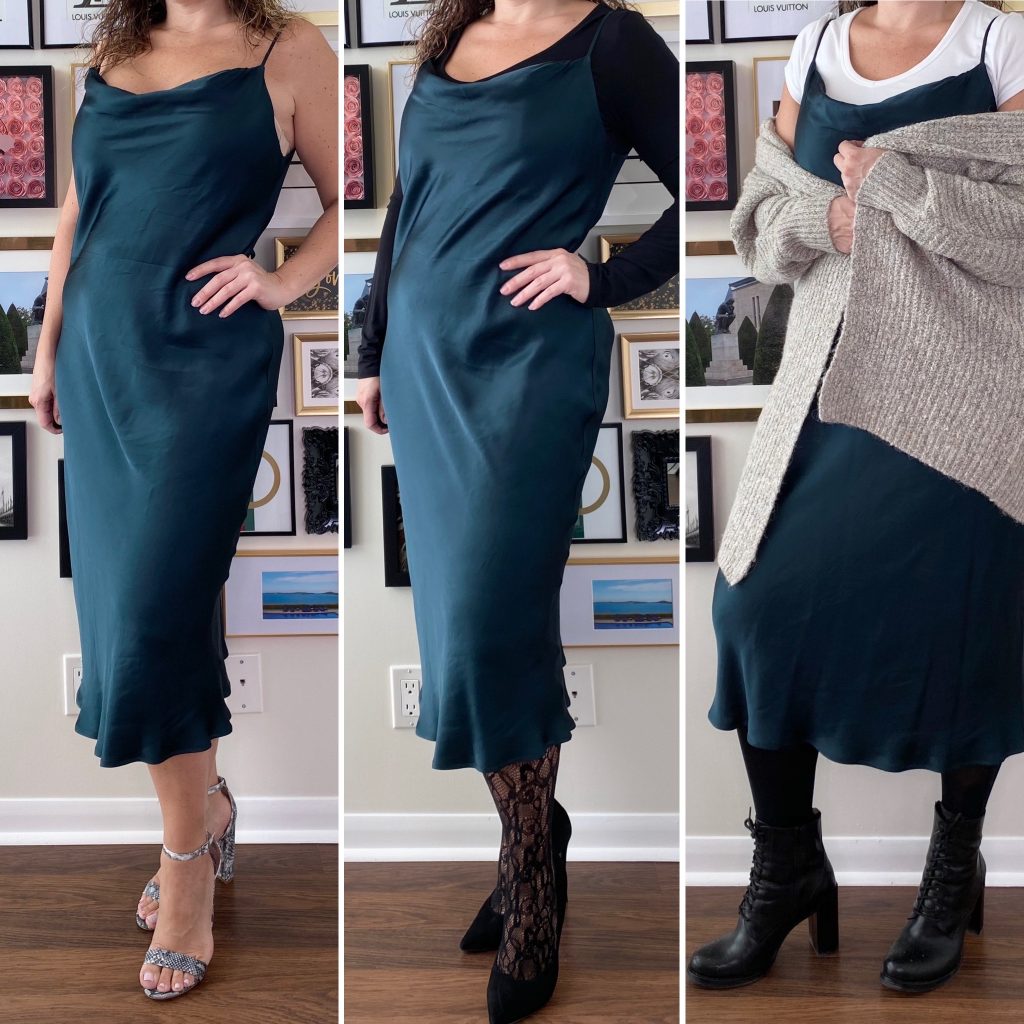 Satin slip dress: Summer-y with sandals (left). Transition to fall by layering over a bodysuit, patterned tights and suede pumps (centre), or dress it down with a tee, cardigan, opaque tights and ankle boots (right).
Let's start with my top 5 DISH Tips for transitioning summer to fall.
1. Layer, baby, layer!
Don't hibernate your short sleeves and skirts/dresses just yet. Keep the all-season fabrics around and layer. THIS! This is why fall is my favourite season for fashion. So how do you go about this? 
First, take inventory of your wardrobe. What do you have that can be layered… for example, cardigans, lightweight jackets, long sleeve tops, bodysuits, scarves, etc. Refer to my top picks for transition pieces below. DISH Tip: layer different lengths together – for example, a leather moto jacket under a thigh length wool vest. 
Second, try not to overthink it. Start by pairing two classic complementary colours: black & white, grey & burgundy, tan & burgundy, tan & black, etc. Then introduce some pattern or a third colour.
2.  Add tights!
Tights are your friend at this time of year – really simple way to transition skirts and dresses from summer to fall (as long as the fabric is all-season). Don't be afraid to mix it up. Add different patterns, colours, and degrees of opaqueness… and toss in a fishnet stocking for fun
Leggings could be a good alternative too. Try a faux leather pair to add texture.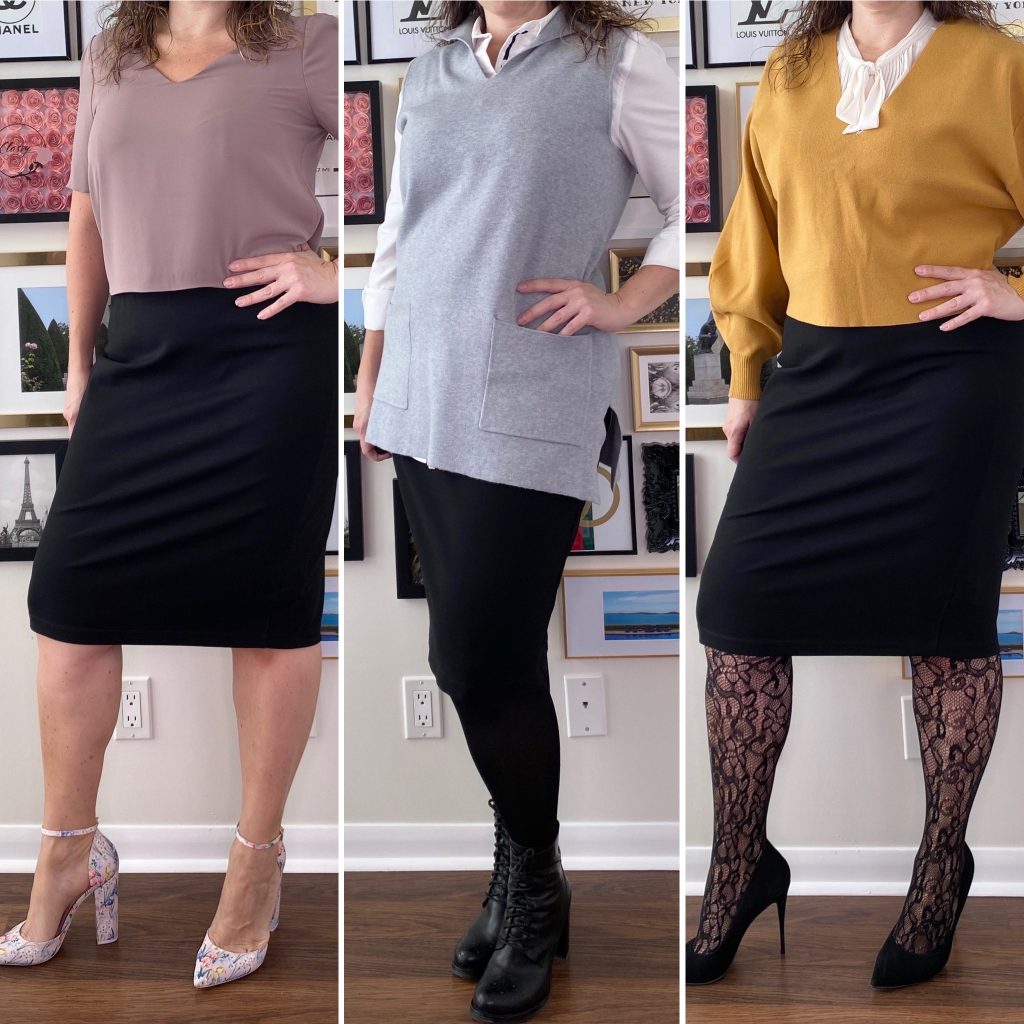 Black pencil skirt: Colour-blocked with a blouse and floral heels (left) for summer. Winterize by adding a white button-down shirt, layered with a grey vest, opaque tights and ankle boots for an edgy look (centre), or glam it up with a pussy bow blouse, boldly coloured puff sleeve sweater, patterned tights and pumps for office chic (right).
3.  Keep it colourful!
The tendency is to have bright, colourful summer garments, and then muted, bland winter pieces. I'm guilty of it too. When in doubt, I usually choose grey. But I'm moving away from that in recent years. I mean, why shouldn't a fall wardrobe reflect the wonderful colours that nature brings us at this time of year?!
The colour palette of fall includes deep rich shades: mossy green, stealy blues, deep purples, creamy caramels… My favourite (apart from grey) is burgundy! If you're unsure about introducing more colour in your fall wardrobe, burgundy is the answer LOL It looks good on nearly everyone. It's a naturally deep colour so you won't feel awkward wearing it. And it pairs well with black and grey… likely a lot of which you already own, right? Psst… blush is a really good transitional / all-season colour too
4.  Boots & booties!
Get out your leather and suede boots and booties! Now is the time to wear them without snow and salt damage. Three styles to consider: above-the-knee, knee-high, and ankle. By and large, I don't recommend mid-calf styles: they emphasize the widest part of the calf, making them unflattering.
Ankle boots have really taken centre stage in recent years. They are very versatile and available in a wide variety of styles, colours, and price points. Pair with skinny jeans, boot cut jeans, leggings, skirts & dresses of any length, cropped pants… like anything and everything! Knee-high and above-the-knee are great over skinny jeans and under skirts/dresses.
Cropped pants: Summer-y & bright with colourful  tie dye and wedge sandals (left). Transition to fall with knee high boots and a bold patterned shirt (centre), or more office formal with a plaid blazer (right).
5.  Outerwear!
An often neglected area of the wardrobe (see my separate post about Outerwear here), especially in transitional periods. We often consider outerwear as necessary to keep us warm, but it can also serve your look. I recommend a lightweight puffer (jacket or vest) for more casual looks and a wool jacket or vest for dressier affairs. These are perfect transition pieces, as can be layered with other pieces (like a leather jacket), as well as scarves and other accessories.
Top DISH Picks for Your Transition Wardrobe:
Denim or military jacket
Boots / booties
Chunky knit sweater
Lighter weight cardigan
Knit dress
Plaid or tweed blazer
Patterned tights
Scarves
The Rules
There are a few rules for which I am known… I know what you're thinking: there aren't any rules anymore. While that's mostly true, there are a few that I just can't give up:
Pantyhose (or tights) are not optional. I know, they're uncomfortable, but, frankly, ashy, goosebump-y legs are just not cute.
Some fabrics and colours are seasonal. Put away the linen pieces and white bottoms. Winter white, which is more of a cream colour, can stay (for now).
No more sandals… even with "socks". Peek toes you can keep around to pair with pants.
Casual black jumpsuit: Summer casual with sneakers and sleeveless (left). Winterize by layering a fun leopard print mock neck sweater under and pair with suede stiletto ankle boots (centre). Bring it to the office on casual Friday with a blazer style sweater and edgy ankle boots (right).