Hi Fashion Friends! I decided that in addition to setting goals for 2020+, I would reflect on the last decade of my life. Long time, 10 years…
2010
The decade started off with new adventures. I changed jobs in November 2010. I left the accounting firm after 5 years filled with lots of learning but a heck of a lot of hours and too much travel (I was on a plane almost every week for most of 2010 – it was overwhelming). 
That summer my younger sister got married… a little bittersweet for me. Of course, I was happy for her but I was also thinking about not having her around all the time. But we talk or text pretty much everyday and I visit her  usually weekly.
Clockwise from top left: my sis and her hubby having their first dance; my sis with our maternal grandmother (gladly, Nonna was still healthy at the time); my sis with all her bridesmaids (yes – there were 8 groomsmen too!)
2011
The following year, I bought my first home! At just shy of 30 years old (yes, 30… it's a cultural thing), I moved out of my parents' house. That was frickin scary. It's a huge purchase (obvi) and really the first foray into adulting LOL My bff, who is a licensed broker, not only helped me find the place but also provided so much positivity in the process.
2012
I turned the big 3-0! And threw myself a big party! I don't like surprises so I planned the whole thing  I also  changed jobs again, but this time it was because the company where I was working got acquired. Toward the end of the year, I went to Australia and Fiji to attend the wedding of my Aussie friends, who I had met in Italy in 2009 (funny enough, we have the same last name). Amazing trip! Fiji is gorgeous so if you have the opportunity to visit, I definitely recommend it. P.S. hope you're good with long car rides though, as the airport is far from the resorts.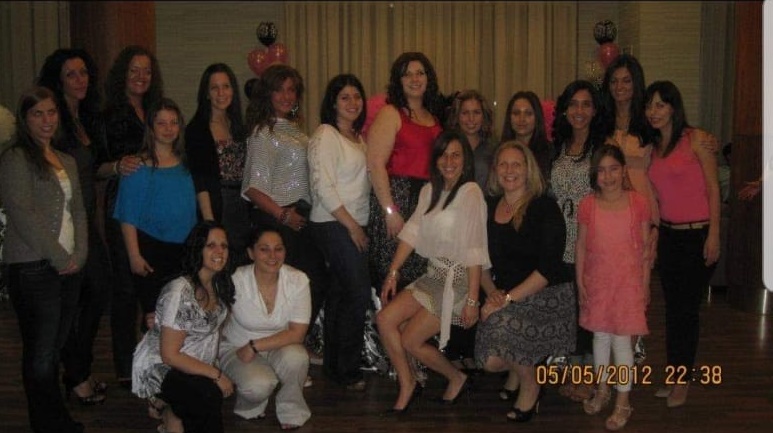 Clockwise from top left: with my girls from university (4 of us are still very close today); with my lovely sister who helped me so much with the party (thank you!); with the many women in my life who inspire me everyday. This was obvi when I was heavier
2015
So we're half way through the decade and 2015 was a big year. I became an aunt for the first time to my sister's eldest son, the love of my life! I was instantly in love… I never thought I would feel this way about a child.
Shortly thereafter, I decided to get healthy and lose some weight. I didn't do it alone. I knew I needed a support system so I joined Jenny Craig. It took me almost a year but I lost ~50 lbs. There were a few setbacks along the way, but my consultant helped keep me focused and positive. I didn't want to do it too fast because I knew the weight would come back just as quickly. For the most part, I have kept it off, gaining back ~5 lbs – boo!
In the summer of 2015, I went to Italy with my mom. Both of my parents have family in southern Italy so we stayed with them. I met my great aunt on my father's side, sister and look-alike to my grandmother. I'm so glad I went because she died a few years later. 
2017
In 2017, I got promoted at work! It was something I was working toward so I was very happy when it happened.
I also visited Disney World (Orlando) for the first time ever in life! Not what I expected – but so much more. I tagged along with my sis and her family so we kept mostly to the kiddie rides – Small World, Dumbo, etc. – which is right up my alley LOL (I don't like roller coasters). The trip ended with a bang known as Hurricane Irma (that bitch!) and so we had to drive home. 24 hours of driving and an overnight stop and we arrived home safe and sound. Two notes: (1) those interstate highways are aces! and (2) I've never eaten so much McDonald's in my life which is at every pit stop along I-75 HAHA
2018
In 2018, I started this blog!! As much as I love my full-time career, I was finding that it was taking over too much of my life. I don't have a life partner or children as a distraction so I needed something else. A friend of mine had planted the seed about me writing a fashion blog a few months earlier and that popped back into my head. So I started doing some research and following other fashion bloggers, and The Dish / On Style (formerly My Classy Closet) was born.
That year, my sister made me an aunt again when she had her twins, one boy and one girl. So now I have 3 loves of my life, all love at first sight.
I was introduced to two new friends by another friend and so I made two new friends!! In my 30s, which is just wonderful!
Clockwise from top left: with my eldest nephew (~2 1/2 years old) on a ride; with my sister, brother-in-law and nephew (probably on the Small World ride); with my sis buying Minnie ears (it rained a lot so we also bought rain ponchos – talk about a fashion flop but desperate times…); in the rented Ford Expedition driving home to escape Hurricane Irma – 5 adults, 2 toddlers, lots of luggage
2019
You know I'm disappointed to say that last year wasn't a particularly big or eventful year. It was a bit… what's the word? Meh. I was kind of looking forward to starting fresh. Does anyone else feel that way? I didn't travel much (in fact, I had 9 vacation days carryover – oopsy), which is something I usually do annually. Now that I think of it, though, I did enjoy working on my blog, including writing my posts and doing photo shoots. And I became godmother to my sister's twins!