You asked so I'm answering! Accessorizing your look can really bring it to another level. You know when you see in magazine's those "Who Wore It Best" comparisons…? Accessories – without over doing it – are usually the deciding factor.
Jewelry
Adding interesting jewelry pieces to your outfit is a fun way to kick it up a notch! And it can be very affordable. Personally, I like costume jewelry, especially statement earrings, but I also have pretty, dainty pieces. Depends on the outfit – and my mood!
Coco Chanel said that once you're dressed, to look in the mirror and remove one piece of jewelry. While Madame Chanel made some wise observations, I have to say I don't agree with her on this one.  And after reading Iris Apfel's book, neither does she! LOL She takes quite the opposite position, in fact, often wearing multiple layers of large necklaces, bracelets and rings.  She's the best!
Let me start by saying you CAN mix and match your metals: yellow, white or rose gold, silver, onyx. I used to avoid it because I thought it looked mismatched. But now I mix it up all the time. Plus so many jewelry designers use mixed metals now that I've accumulated a number in my own collection. Many people, including my own sister, stick to one metal and that's cool too. I'm just suggesting be open to it.
Classy tips:
Select pieces that catch your eye. Try not to over think it.
Look for unique items at flea markets, antique shops and yard sales.
Off-price retailers are an excellent place to find fun pieces for less.
Don't worry too much colour. Inspiration will come to you when you introduce them into your wardrobe.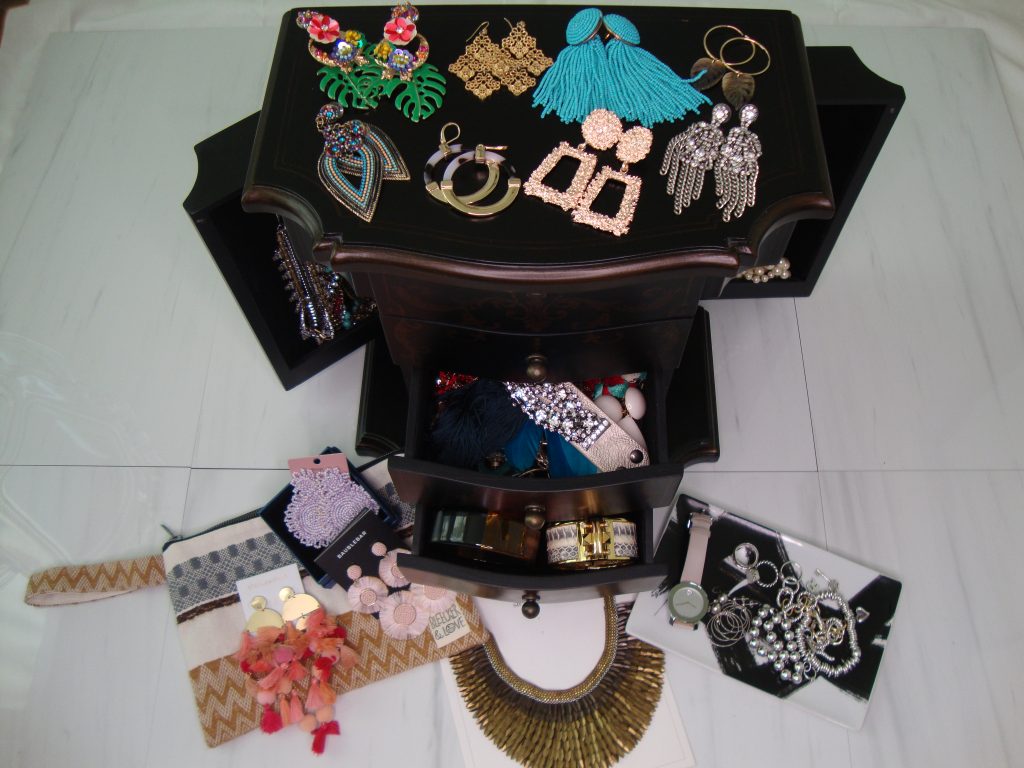 Handbags & Clutches
The rules of old no longer apply. Your purse does not necessarily have to match your shoes (although they do have to oordinate with each other and with your outfit). Handbags is another area in your closet where you can play without breaking the bank.
Your arsenal of bags should include:
Satchels: these are "everyday" bags, a couple for each season including a white one for summer and, of course, a black one for winter. I also recommend a neutral caramel/whiskey colour because it matches with so much and is all-season. Medium to large size. Leather preferably so it wears better.
Shoulder: these are larger bags which can double as a carry-on when travelling. Mine are nylon to make them lighter weight (since I fill them with snacks, mobile devices, books, etc.) and easier to clean.
Crossbody: these have been very popular in the past few years, more so than in the past. Generally cross body bags tend to be smaller than satchels making them most useful when you will be walking or standing for long periods. Great for shopping trips to the mall because it leaves both hands free to browse potential new wardrobe pieces! I have both neutral and funky coloured options.
Clutches/evening: these I practically collect! I have probably 20 in every colour and style. Like shoes, a bag can make or break an outfit, esp a dressier evening ensemble. These don't necessarily have to be leather because you don't wear them as much which makes them more affordable. At a minimum, 1 or 2 black, a cream or beige one for summer, and a whiskey-colour, and then fill in the colours from there based on your wardrobe. Metallic is a good option too because it's very versatile and matches nearly everything.
Classy tips:
Leather bags tend to last much longer than faux leather, esp round the handles which wear over time due to oils from your hands. My high-usage bags are leather. The downside is that they are also heavier than fabric or nylon bags.
Top tip: I have found many fabulous bags at off-price retail shops. A good spot to find leather bags for less.
I tend to like bags that are structured just like my clothes, meaning bags that stay standing up when you put them down
on a table (never the floor!). So I'm not into the slouchy bags. I have a lot of stuff in my bag and I like to be able to find it easily. I also like handbags with pockets built in on the inside to hold smaller things that require easy access like a phone, lipstick, etc.
I highly recommend using a purse hanger wherever you can. It keeps the bag's shape, even if it's a slouchy bag and keeps you from having to put the bag on the floor. Purse hangers are compact, affordable and widely available.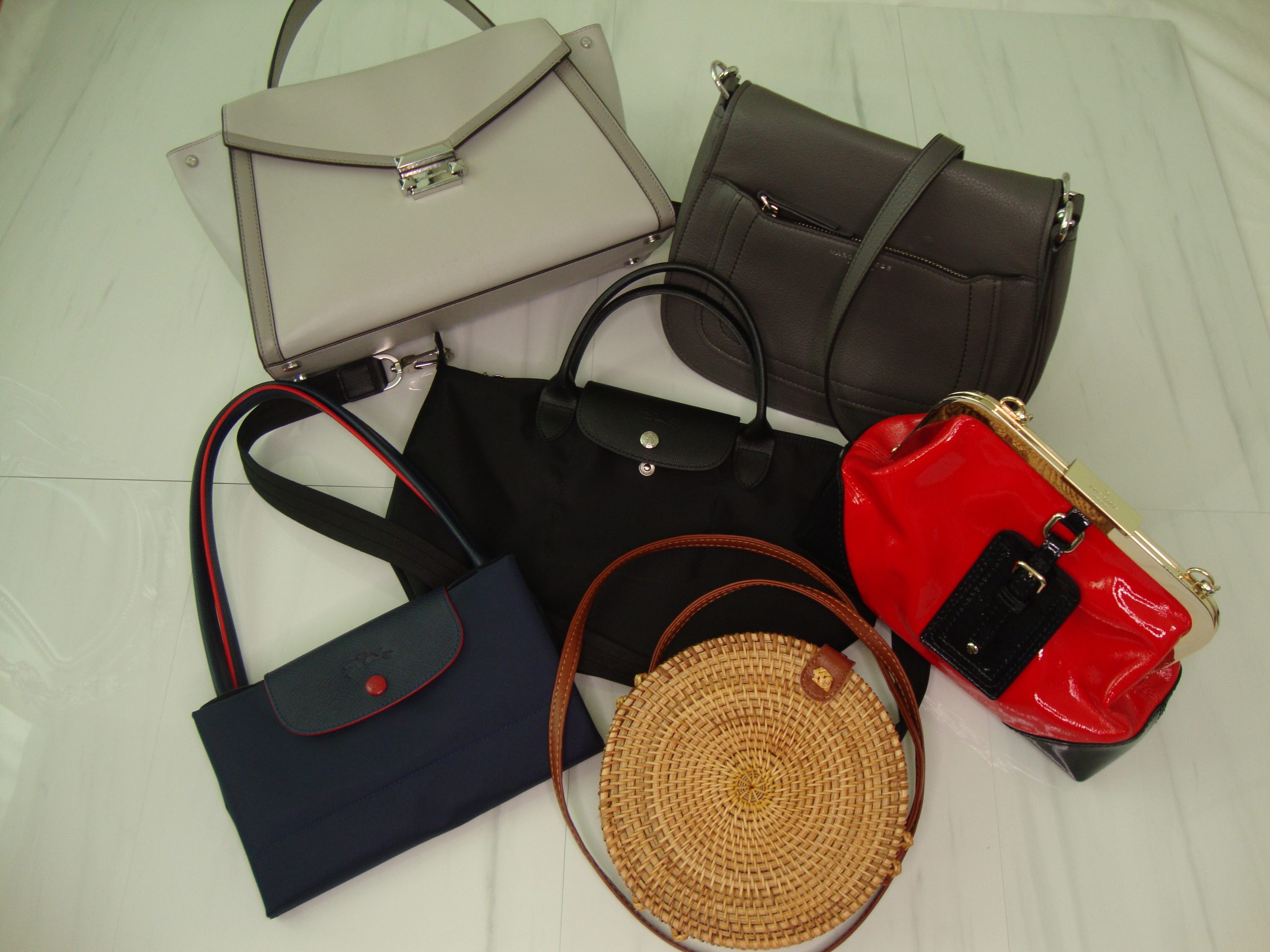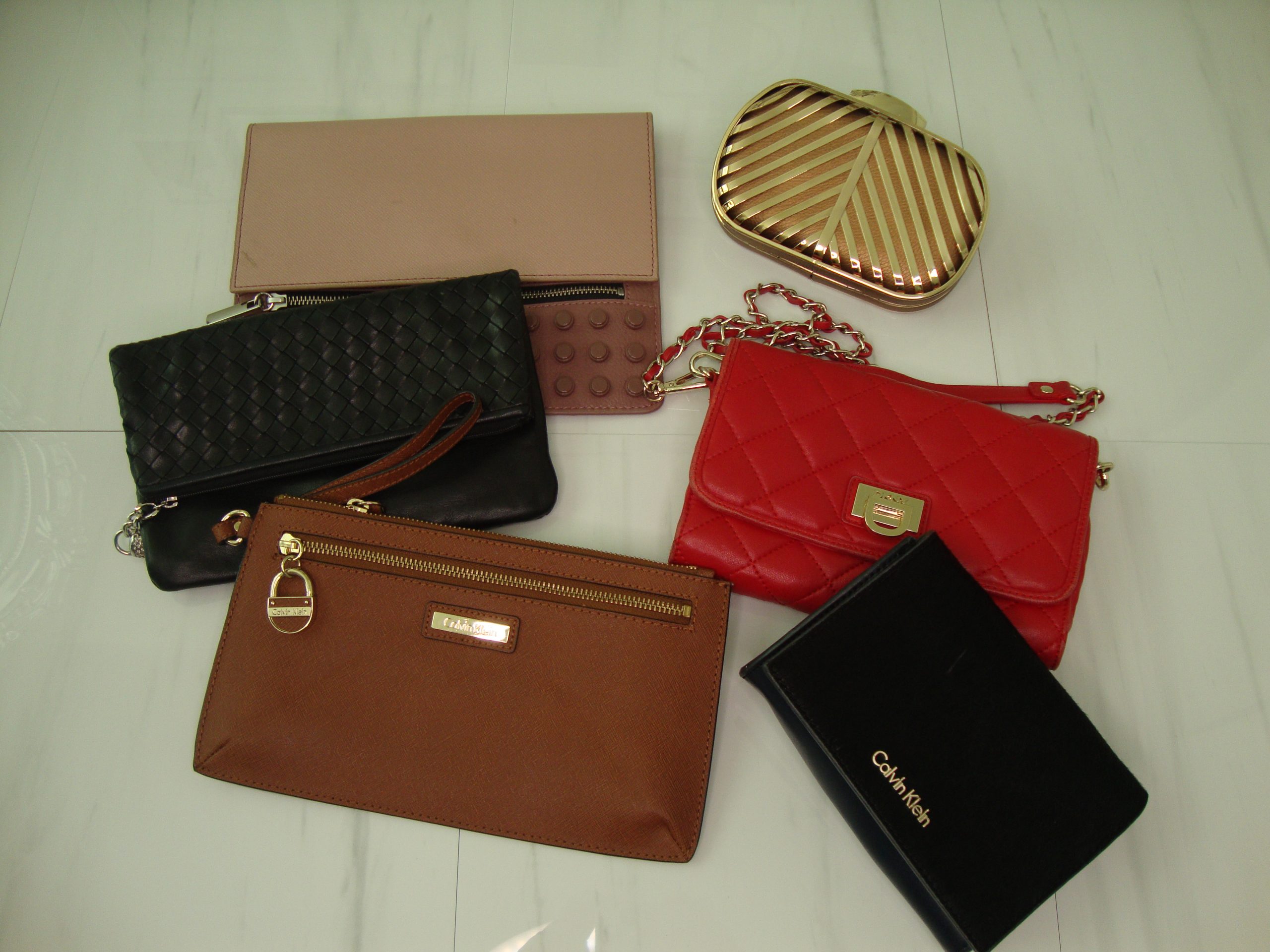 Scarves, Shawls & Pashminas
Scarves are not just good for keeping you warm in cold weather. They can also add a wonderfully sophisticated touch to your outfit. A fun printed scarf can turn a simple jeans and white tee (or shirt) into a fabulous look.
I have collected a few over the years in in array of shades, patterns, and fabrics. And I have this convenient little back-of-the-door holder to store them, so I can see them all
Courtesy of my mom who has sooo many scarves – probably one for every coat or jacket she owns!
A couple of staples that your collection should include:
Leopard print! A traditional brown or black leopard print is great with black and denim. Consider a wild (pardon the pun) colour instead, like blue.

Printed square silk scarves in various colours and sizes, including a black and white.
Large wool scarf. Consider a triangular shape to reduce bulkiness.
Standard rectangular shape in lots of colours/patterns.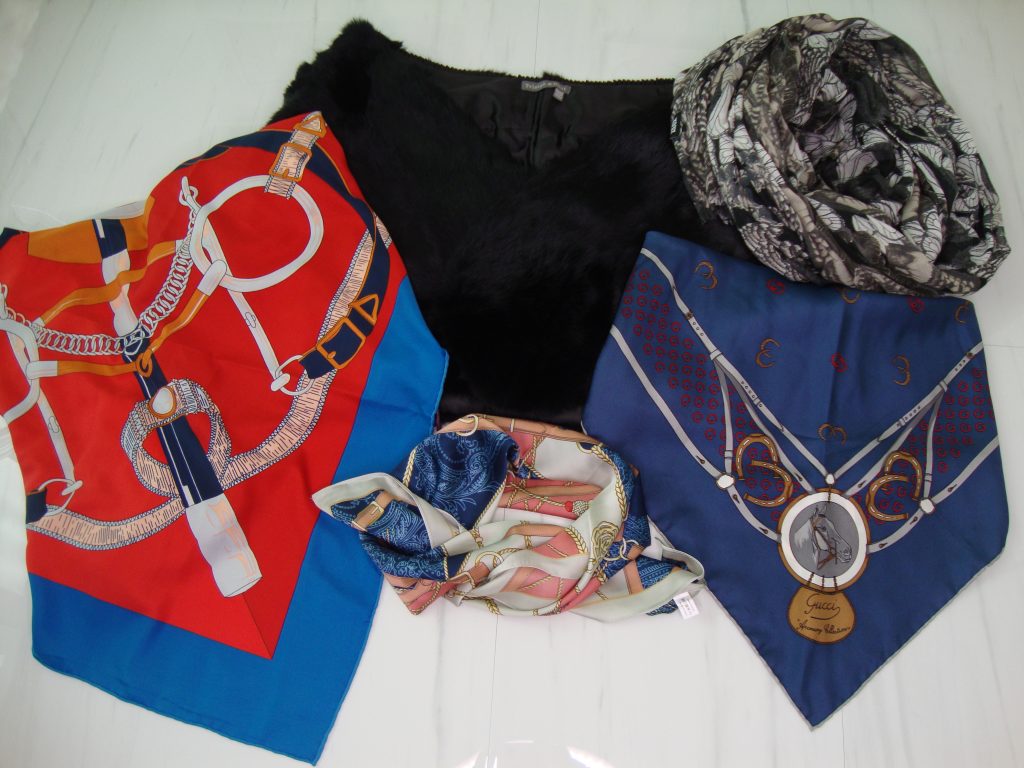 Belts
Not just for holding up your pants
I have only a handful mostly in neutral colours (cream, black, tan). Belts are great for accentuating a waistline for hourglass shapes and creating the illusion of a waistline for women who are straighter through the hips & thighs! Adding a belt to a boxy or loose-fitting dress or jacket can completely change a look.
Classy tips:
Stick to classic styles & sizes. Belts can become very "fad-y" ranging from super-skinny to world heavyweight champion HAHA! Staying in the mid-size (1"-3") wide will be flattering on most shapes and sizes.
Select colours and patterns that complement your wardrobe. Neutrals are always good staples, as they match everything. But if your wardrobe is wildly colourful, then you accessories likely will be too.
Shoes
This one requires a post all its own… check it out here!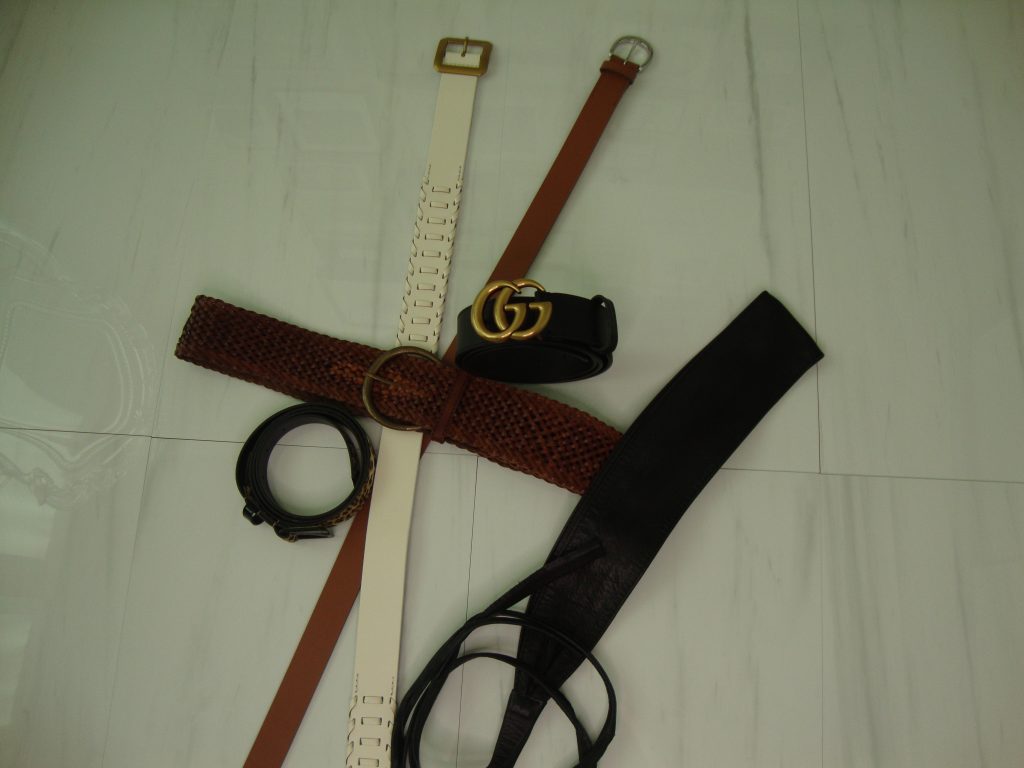 Sidebar for the gentlemen…
Please please match your belt to your shoes. The rule doesn't necessarily apply to women the same way, but gents have to abide. Also, you should have more than a single pair of black dress shoes. At a minimum, probably a couple black in different styles (maybe a patent one for special occasions), tan or medium brown, and perhaps one or two others depending on your wardrobe (i.e. grey, blue, multitone, burgundy).