For the month of June, I've decided to challenge my creativity by doing what I'm calling The Capsule Wardrobe Challenge! You may have heard of the Project 333, where you select a 33-piece capsule wardrobe from your existing closet and create a multitude of outfits that you wear from 3 months. And if you haven't, well now you have 😊 Three months seemed a bit excessive to me so I'm doing a bite-size version: 11 pieces for 1 month.
From left to right: (1) deep coral tiered maxi dress (2) orange & beige striped midi skirt (3) black graphic tee (4) floral printed tee (5) white tee (6) white shirt w/ sequin embellishment (7) black knee shorts (8) white wide leg pants (9) medium wash blue jeans (10) floral embroidered kimono (11) white double breasted blazer
Look I'm not going to lie – I am not by any stretch of the imagination a minimalist. I'm usually a "more is more" kind of person. Case in point: I live in a two-bedroom condo and all the closets are full. However, I am also painfully aware of the damage to the environment caused by the fashion industry, specifically fast fashion, and so I'm trying to be more considerate.
What is a Capsule Wardrobe?
Have you heard the term "capsule wardrobe" and wondered – what the heck is that?? It is defined as "a small collection of clothes that can be put together in different ways and includes everything you would normally need to wear"[1] In this case, capsule means small and compact (as opposed to like a time capsule, which refers to a container filled with stuff from a certain period).
A capsule wardrobe would include clothes, shoes, and accessories (jewelry, handbag, sunglasses, etc.). It would not include things like undergarments, sleepwear, loungewear, activewear, etc. It's intended to capture outfits you would wear when you're outside the house.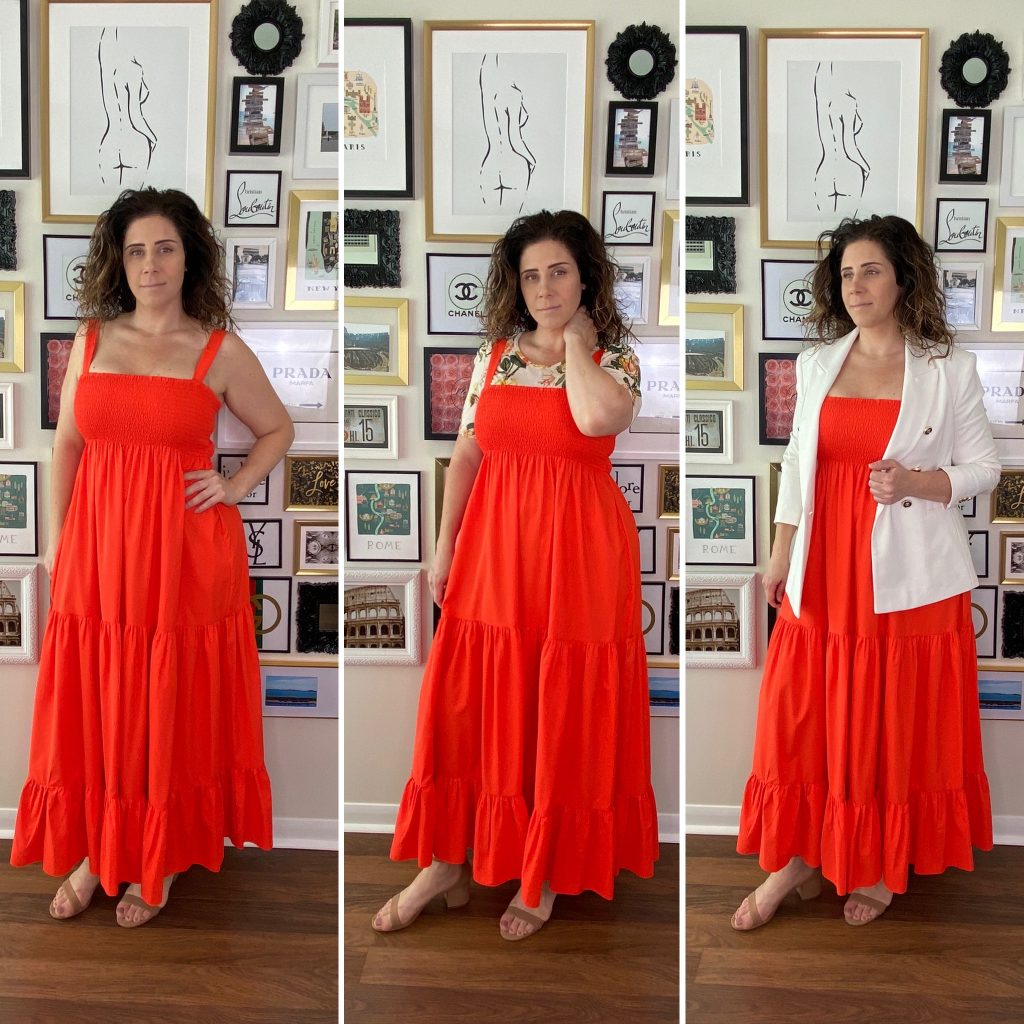 Deep coral tiered maxi dress: (1) on its own (2) layered over a floral printed tee (3) with a white blazer
I have heard the word capsule used interchangeably with wardrobe basics. That's a bit of a misconception. Wardrobe basics are intended to complement the larger wardrobe. Capsule wardrobes are intended to serve as the entire wardrobe.
Another misconception is that the items in the capsule should be the same for everyone. For example, white shirt, black tee, dark denim jeans, black blazer, etc. Not the case at all! Your capsule wardrobe is personal to you – it depends on your lifestyle, style personality, colouring, preferences, etc. You don't like black? Fine – use navy or grey or hot pink if you want. Not a fan of blazers? No problem – try a cardigan or a kimono.
The key is choosing those pieces that make you feel great! Figure out why they make you feel great – and that's how to start building a capsule wardrobe.
White wide leg pants: (1) black graphic tee & white blazer (2) white tee with floral embroidered kimono (3) floral printed tee
Black knee shorts: (1) white tee & white blazer (2) white shirt with sequin embellishment 
Dish Tips:
Start with bottoms. Select skirts, pants, shorts, etc. first then you can interchange your tops with each.
Stick to a complementary colour scheme. Here, I chose white and orange with a splash of black.
Include a white tee or shirt – trust me on this one.
Don't be afraid to include colour, pattern, print and embellished pieces. These will give you much needed visual interest.
Consider your lifestyle. This is not a "wish list". If you work in an office, your selections will differ from someone who works in a retail store, or as a photographer (or the set assistant), or a tech entrepreneur.
In the interest of full disclosure, I have not included shoes, handbags or other accessories in my 11 pieces.  While it's a bit of cheat, I am rationalizing as follows: (1) it is more challenging to create a month's worth of outfits out of 11 pieces than to do 3 months with 33 pieces (2) I don't change my handbag daily – I generally stick with one for many weeks or months (3) my shoe collection is vast – how could I choose? 
Medium wash blue jeans: (1) white shirt with sequin embellishment (2) floral print tee & white blazer (3) white tee & floral embroidered kimono
Orange & beige striped midi skirt: (1) white tee & white blazer (2) white shirt with sequin embellishment (3)  floral printed tee (wild card!)
So I coordinated 14 looks out of 11 pieces. Assuming I am mostly wearing these Monday through Friday, maybe Saturdays, that's over two weeks without repeats. And realistically, I will likely mix and match a few more as I go. Are you ready? Let's do it!