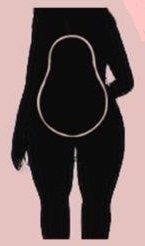 Pear
Narrower in the shoulders and wider in the hips and thighs, and often smaller in the chest. A-line skirts and dresses are your friend. So are straight-leg pants. Try to avoid skinny jeans/pants – they will create an ice-cream cone shape and accentuate the width of the hip. Another one to avoid: long sweaters, as they create a tent-like shape.
Curvy
Hour glass shaped – very defined waistline with wider hips and chest (booty and boobs to match). The good news here is that curvy seems to be "in style" as of late, and many brands tend to be friendlier to this figure. The bad news is that you sometimes can't fit all that curvy-ness into the garment no matter what size. Wrap dresses, A-line skirts & dresses, pencil skirts... all of these will work. You want to avoid straight-cut styles like shift dresses, as they would be difficult to fit and would hide your figure. Same with tops: nothing that hangs loosely and hides your narrow waistline.
Apple
Narrow shoulders and hips, and round in the middle, often paired with a flatter booty and larger breasts. To create the illusion of a waistline and minimize the chest, find V-neck tops that are belted, nipped at the waist or flared through the hips. For bottoms, aim for fuller options, with details and wide waistbands.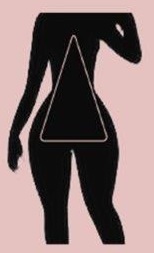 Triangle
Wide through hips and thighs and very narrow shoulders, chest and waist. Similar to pear-shaped but a more extreme variance in sizing. It may be difficult to find dresses for this kind of figure. Stick to A-line cuts and stretchy fabrics where possible. And no skinny jeans/pants. Find tops and jackets that fall either above the hip or below, meaning steer clear of tops and jackets that land at the widest part of your body. It would just accentuate the width of the hips in an unflattering way.
Inverted Triangle
Broad in the shoulders and chest, and narrow in the hips and thighs. Straight cut tops are good paired with straight to skinny-ish pants and skirts. Try to avoid very bulky tops (i.e. fur or faux fur vests). Flowy skirts are not ideal either. They kind of hang loosely and it looks odd. Stay away from strapless and off the shoulder styles - these would just accentuate your broadness.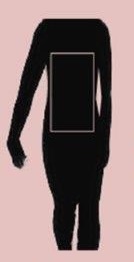 Square
Straight from top to bottom. To add the illusion of curves, bulkier, looser items will help. I don't mean clothes that don't fit properly. I'm talking about gorgeous heavy knits, wide leg pants, tweeds, shift dresses. For bottoms, aim for fuller options, with details and wide waistbands.
Diamond
Waist is the widest part of the body and undefined, similar to apple-shaped but more slender in the shoulders. With this shape, your legs are usually slender as well - so show them off! Best options for accentuating this figure are tops that come in at the waist and/or empire waists to create the illusion of a waistline with darker straight-cut pants and A-line skirts.