Pumps. Key to a fashionista wardrobe. In as many colours as you can afford. I would suggest a minimum of a couple black and a couple nude for each season, so you can mix up the styles, as certain styles look better with pants (for example, pointed toe) and others with skirts or dresses (such as almond toe). Heel height is up to you – whatever is comfortable for you, or whatever level of discomfort you are willing to sustain. But please no kitten heels.  They are currently making a comeback but they are just not my cup of tea.
Seasonality: none. Pumps really can be worn year round.
Boots. Two categories to consider: knee high (or thigh high) and ankle. None of those in-between lengths that stop mid-calf (exception: slouchy boots that don't hug the calf).  They just make your legs look short and fat. I recommend a flat riding boot as a staple. They are comfortable and versatile – good for casual Fridays in the office and a weekend shopping trip. Most people will opt for black, but a great alternative is caramel, which looks better with (blue) jeans. Ankle boots are awesome because you can wear them with just about anything – jeans, skirts, dresses. They can be dressed up or dressed down. I would recommend black for ankle boots for this reason.
Seasonality: autumn/winter. I cannot understand why anyone would wear knee high boots in 30 degree heat!  "Shooties" (meaning ankle booties with open toes) fall more into the peek toe category (see Sandals below) but can extend into early autumn.
Flats. A numbers of years ago, the ballet flat made its grande entrance onto the runways, and we haven't looked back. At first I was not a fan, but the styles and options keep getting better so I too have invested in some flats. My first suggestion is to get flats that have at least some support. Shoes that are completely flat are really hard on your knees and back. Again, most will opt for a neutral shade like black or nude, to which I totally agree, but you could also play with colour here. Try a deep burgundy or green, for example, in addition to the neutral.
Seasonality: none (unless the shoe is open toe or sling back, then warm seasons only).
Sandals. My personal favourite. Of my 100+ pairs of shoes, more than half are sandals. I tend to stay away from black and grey in my wardrobe during the summer, and my shoes are no different. Have fun with this one! Find funky colours and styles. I'm going to include peek toes in this category. Peek toes are good for seasonal transition – like in the March/April, September/October periods – so a pair or two is good to have as well.
Seasonality: spring/summer.  It goes without saying but still it needs to be said.  For special occasions in the cold months, wear pumps. Invest in a sparkly or shiny neutral tone (i.e. silver, bronze, nude) special occasion winter shoe.
Other/Extras.
Mules, which are open back/slide on shoes and can be open or closed toe, heeled or flat. Very trendy as of late and available in fun colours, prints, and textures. Good transitional shoes between seasons. I would wear these from early March through late October.
Sling backs can we open toed or closed, heeled or flat. Like mules, these are suitable from early spring through early autumn (March through October).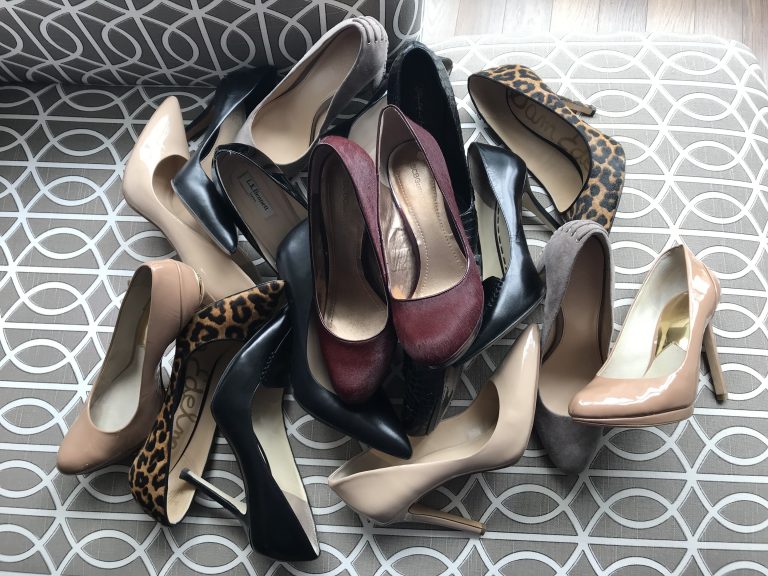 Shoes are also a good place in your wardrobe to experiment and venture outside your comfort zone. I know more than one person whose nearly entire shoe wardrobe is black. That's no fun. If you want to venture out without spending a lot of money, go to off price shops. You would be amazed at the deals you can get at these stores. Don't be afraid of multi-coloured, patterned and textured shoes. These can really give a boost to a simple look. Think leopard print, calf hair, pompoms, satin floral, rhinestones, tweed, feathers… the possibilities are endless!
Other things to think about… If you're going to invest a little more money into your wardrobe, shoes is a good place. Think about it: you spend all day in your shoes. They need to fit well – no pinchy toes please. Funny anecdote: someone I know actually fractured her foot from wearing poorly made shoes! Can you imagine?!