Confession time… I don't really have a budget. Well I do but it's pretty loose and very flexible because it's difficult to maintain the same spending patterns every week or month. $hit comes up, right?  Earlier this year, I had to replace my all-season tires and buy a new washer & dryer in the same month! Plus I had booked a vacation in that month too. Talk about going over budget!
I shop all over and buy from a varying array of brands, from low to high (ok, medium-high). I don't worry about the label because no one sees it on the inside of my clothes. And I love getting a deal! I brag more about how much I saved on an item than I do about buying pricey items.
So where to shop on a budget?
Off-price Retailers
First and foremost, off-price retailers, like Winners, Marshalls, Saks Off 5th, Nordstrom Rack, DSW. I know many of us are overwhelmed by these kinds of stores… they are huge and messy and time-consuming. Listen, I used to think the same thing, but I have found real gems in these stores – beyond clothes & shoes – so make them your friend.




Classy tips:
Inter/National Chains
Second, national & international chains such as H&M, Zara, Forever 21, Uniqlo, Joe Fresh, Reitmans. These spots are usually ripe with trendy items for reasonable cost. Bit of advice: these stores are big and busy so pack your patience (or go in the morning as soon as the mall opens, like I do)! I discovered Zara in the past year or so (I know, I'm late to the party). I made the mistake of assuming that it was too youthful for me but I was wrong. In this category, I will also include the "lower end" alternative shops, such as Old Navy or The Gap instead of Banana Republic. Word of warning: sometimes the quality and craftsmanship of the items from these shops can be lacking (that's often why they are more affordable). For example, they tend to be less structured, unlined, man-made fabrics (like polyester), etc. and so they may also lack in longevity.
Outlet Malls
Hello?! Outlet malls such as the Premium Outlet (Halton Hills), Tanger Outlet (Cookstown), or Dixie Outlet Mall (Mississauga)!!! Can you tell I'm excited? So many medium and high end labels have outlet or "factory" stores: Ralph Lauren, Kate Spade, Vince Camuto, Banana Republic, Coach, Nike… You can get well made items for a lot less. What's the difference between the regular line and the factory line? The factory lines tend to be more homogenous (meaning less variety of styles and more colours of the same style), blended or man-made fabrics (vs. natural), less structured garments (i.e. more spandex, tie-belts), etc.
Department Stores
Moving right along… department stores like The Bay. Be careful with this one as the price range is wide in order to accommodate a broad portion of the population. Affordability depends on your specific budget. Most affordable brands include I.N.C. International Concepts, Style & Co., Topshop/Topman, and the store's own label (Hudson's Bay Company). Middle of the road brands include Jones New York, Ralph Lauren, Calvin Klein, Guess, Lord & Taylor (also a store label), etc. And then there are the higher priced brands like Pink Tartan, BCBG, Donna Karen and the designers. Classy tip: shop the sale racks here!
Neighbourhood & Local
And finally your neighbourhood shops & local brands. There are all kinds of entrepreneurial one-in-the-world shops near you, often found in neighbourhood shopping centres and smaller local malls (instead of Yorkdale, Sherway Gardens, or The Eaton's Centre). And lest we forget the countless online local brands that have popped up in the e-commerce age. Seek these out. Test them out. You will often find one-of-a-kind pieces. And if you return often and become acquainted with the owner, you might be able to negotiate discounts on occasion. Caution: some of these shops can be very expensive especially if manufactured in Canada or the U.S.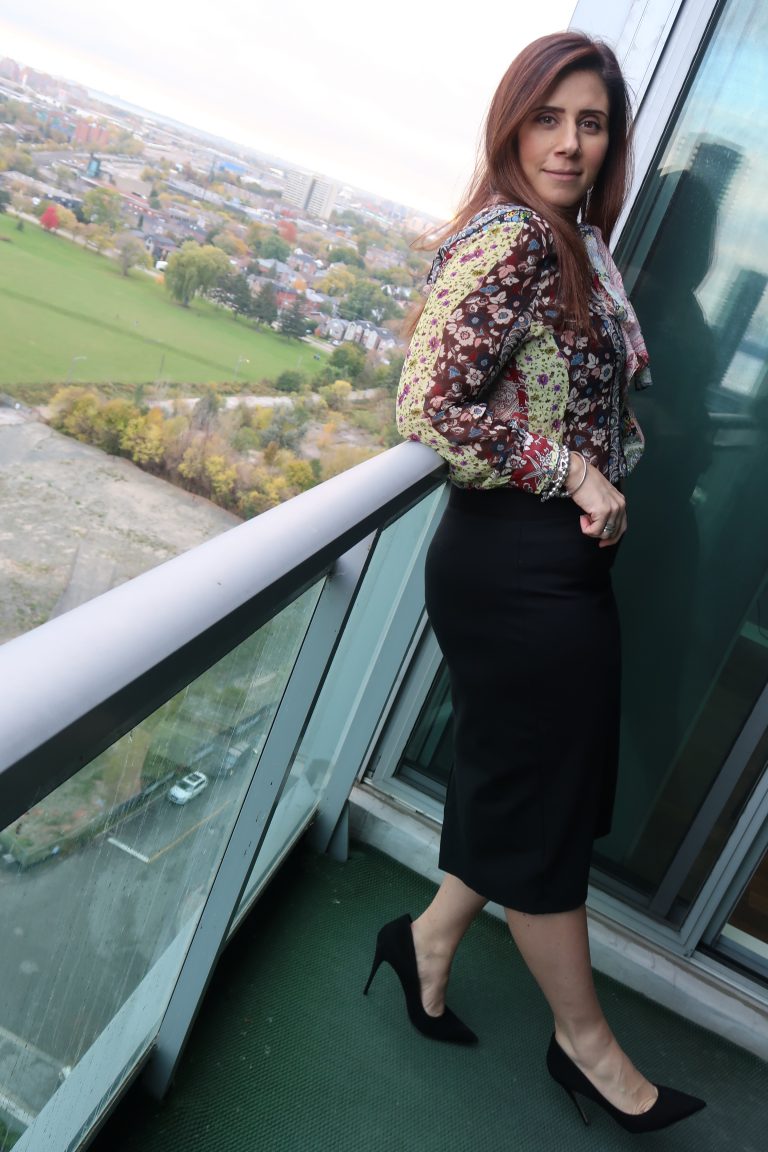 A few classy tips to stay on budget:
Buy at the end of the season when everything is on sale. Meaning buy for next summer at the end of this summer. It means you likely won't be able to wear the item for eight months but you'll get it at a steal!
Don't shop for the occasion, meaning you have a formal event to attend and you don't have a dress. You are more likely to spend outside your budget esp if you're shopping last minute. Accumulate and maintain a broad wardrobe continuously. Have a few classic cocktail dresses (or LBDs), dressier and casual skirts & tops, a blazer/suit or two…
Avoid store-specific credit cards – stick with the majors: Visa, Master Card, AmEx. Store cards often come with higher interest rates and make it more difficult to stay on top of your spending. Exception: you are making a very large purchase (like a washer & dryer) and you can defer the payments interest free for 12 months on the store card. But make damn certain to pay it down within the 12 months. Points cards – go for it esp if you're a frequent shopper!