Let's be honest… with this pandemic and these ongoing lockdowns, we've probably all been consuming way too much tv. (Now that the weather is warmer, less so). Sometimes I find I'm not even paying attention to the plot because I'm totally mesmerized by the outfits LOL Here I'm rounding up some of my favourite series with amazing fashion.
Gossip Girl
Ok I'm not going to lie – I watched this series way beyond an appropriate age. Like should a 30 something be watching a series about [ultra rich] high school teenagers?? Probably not
But the fashion is stellar in this series! Let's start with besties, Blair Waldorf & Serena Van der Woodsen (played by Leigton Meester and Blake Lively, respectively).
The show's stylist, Eric Daman, even managed to style their school uniforms! Granted, fabulous outerwear and accessories really helps.
The many coats & capes of Blair Waldorf… Love me a great cape! One of my fashion mottos is that outerwear is used only to keep you warm – make it fashion! For more on this topic, see my blog post here.
The character of Blair is in control, prepared, even uptight. And her wardrobe reflects that – she's always "put-together" – clothes ironed, shirt tucked in, blouse buttoned, not a hair out of place. Blair wants to be seen as a powerhouse and she shows that in her dress.
Serena, by contract, has a far more laissez-faire demeanour and her looks reflect that – much more romantic and flowy, neat but not stiff.
Even though the show ended years ago, the style is so iconic that one could easily wear these styles today.
As for the men, I think the title for best dressed goes to Charles "Chuck" Bass (played by Ed Westwick). I find the stylist pushed the envelope with this character wrt the shades, colour combinations, and fitted tailoring. Like his love interest in the show, Blair, Chuck is all business.
FYI Gossip Girl is streaming on Netflix XOXO
Mad Men
This show is set in the offices of a 1960s advertising firm. The era may have passed but the style is iconic. First let me start by saying that the style of the 1950s and early 1960s is probably in my top 3 favourites in history. I love that the clothing was tailored to fit a shapely female body (I may be a little bias, having such a figure myself
)
Which brings me to my favourite character in the show, for her fashion and her personality, Joan Harris (played by Christina Hendricks). She plays a secretary at the firm, who works her way up to partnership, showing time and again her value to the company. She's a smart woman and she uses it, along with her sexuality, to get what she wants – a seat at the table.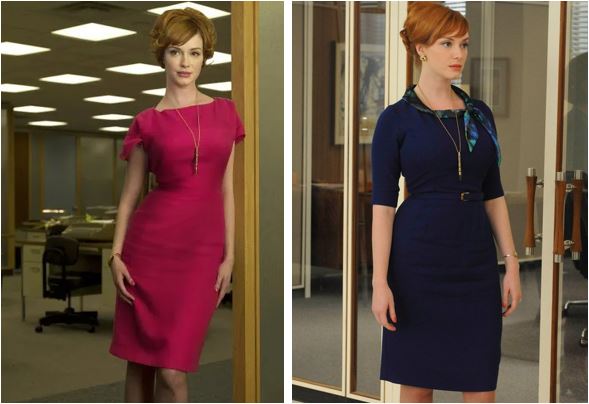 By contrast, the character Betty Draper (played by January Jones), didn't ooze sexual prowess at all. She is, of course, the suburban housewife of Don Draper, the show's main character. Her character is portrayed as a bit flighty, bored, and barely keeping it together. Her wardrobe is almost dowdy for someone so young.
As for the gents, Don Draper (played by on Jon Hamm), was all about the suits. Mostly brown, grey, and navy solids – not the prints and patterns of today. But dapper nonetheless.
Then there is Roger Sterling (played by John Slattery), the more mature partner at the agency, mentor to Don. A silver fox, IMO! He was more into the double breasted and 3-piece suits, which made their comeback not long ago.
The hairstyles were very stiff and gelled/hair sprayed into place during that era, weren't they? Glad that's no longer the case. Who has the time for a full up-do in the morning?? And everyone smoked – in the office! Can you imagine?!
 Although this series occurred in a by gone era, I can definitely see the influence of the fashion from this time in modern style. I still have [and wear] two pieces – a cape and a scarf – from Banana Republic's Mad Men capsule line.
Suits
Almost like a modern-day Mad Men, but instead of an ad firms, it's a law firm, and instead of the women being secretaries, they are the bosses
My favourite character for her personality was Donna Paulson (played by Sarah Rafferty), secretary to Harvey Specter (played by Gabriel Macht), the maverick lawyer. She is excellent at her job, she tells it like it is, and she unapologetic. And her wardrobe is almost entirely DRESSES!!
My favourite character for the wardrobe, though, is Jessica Pearson (played by Gina Torres). Ok let's just lay out one important factor here: Ms. Torres is very tall – like 5'10" + 4" heels. This is part of the reason she wears the clothes so well (also why models are tall).
I mean, realistically, unless you work at Vogue Magazine, it's unlikely you would or could wear some of these looks in your own office. Some were strapless, backless, plunging neckline, super high slits…
Sex and the City (SATC)
Obvi I wasn't going to leave this one off the list. I'm going to include the movies here too, as the series was very long ago, and I haven't seen every episode.
What I loved about this series was the four distinct personalities of each of the characters – Carrie Bradshaw (Sarah Jessica Parker), Samantha Jones (Kim Cattrall), Miranda Hobbes (Cynthia Nixon), and Charlotte York (Kristin Davis) – and how each of us can relate to each one.
Their wardrobes are used to reflect their individual personalities (as should be the case in any production).
Carrie, who narrates the story, is a romantic at heart. She's wearing a tutu in the opening credits – only a romantic would wear something like that. Lots of flowy styles. While I mix some romantic styles into my own wardrobe, I'm a far cry to Carrie's style choices.
Then there is Samantha – she's bold, powerful, unapologetic, and super sexy! Her wardrobe is very colourful. Not defined by her age – as she famously says in the second movie "I am fifty-fucking-two and I will ROCK that dress!". Like, who else could pull of that spiky shouldered mini?? Rihanna perhaps…
Miranda's marked characteristics are hardworking, smart, maybe a little cynical. Hers is the wardrobe I covet from the movies. I love that even though she's a lawyer, professionally, she's not dressed in a boring or austere manner. I think this is where I connect – I'm a professional accountant, but my style is not contained to navy suits. BO-RRRING!
Finally, there is Charlotte, the people pleaser of the group. She seems to portray more traditional values – marrying, having children, etc. Her wardrobe is fun and girly. I feel like she wears a lot of pink – which I love so I can relate there.  She also wear a lot of white, perhaps symbolizing "purity"??
What are some of your favourite tv shows with spectacular fashion? Comment below!